rjluna2
1985: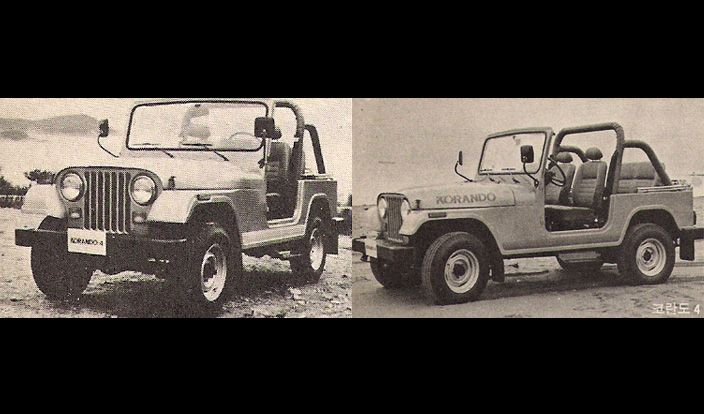 1985 Dong-A Korando 4
It is the only 4-passenger open-air car in Korea (combination of unguarded and open-air), powerful force, individuality and sporty style. It is a youthful passenger car that enhances the personality and activity of free professionals for leisure.
1985 Dong-A Korando 5
A passenger car suitable for an active businessman with a balance of position, elegance and practicality. It is the best passenger car of 5 passengers with comfortable ride, perfect soundproofing and anti-vibration device and is best for communication and guidance of government offices and companies.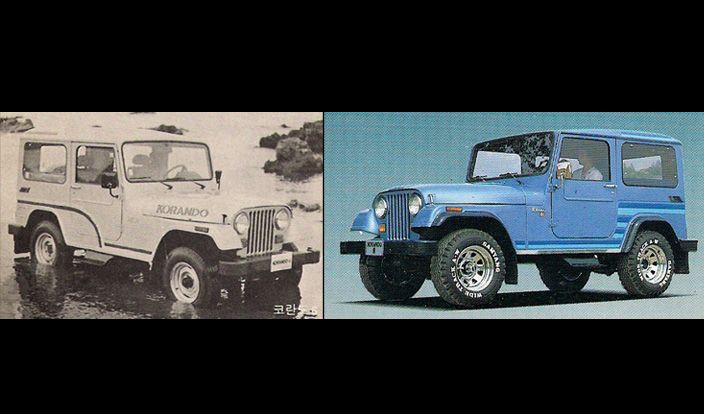 1985 Dong-A Korando 6
It is the only 6 passenger car in Korea. It is the first 3-door tailgate type in Korea and it is convenient to get on and off. It can be used for various purposes such as company business or local business taxi.
(Author's note: Please note that this version has raised roof style)
1985 Dong-A Korando Van
It is a multipurpose freight car with high maneuverability by mounting a trailer for three passengers and cargo and equipment.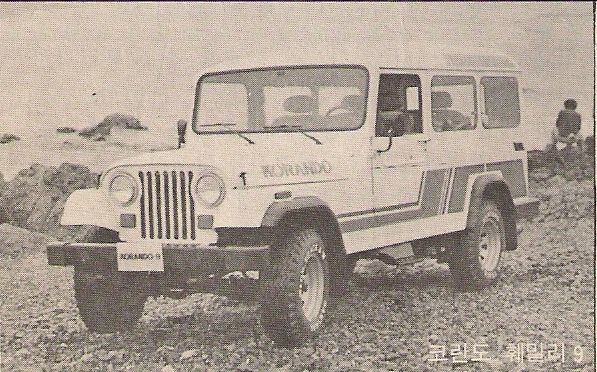 1985 Dong-A Korando Family 9
It is the first 9-passenger multipurpose vans in Korea and it is the best for the office site office. It can also be used as a bedroom for a family when the seat is opened for leisure use.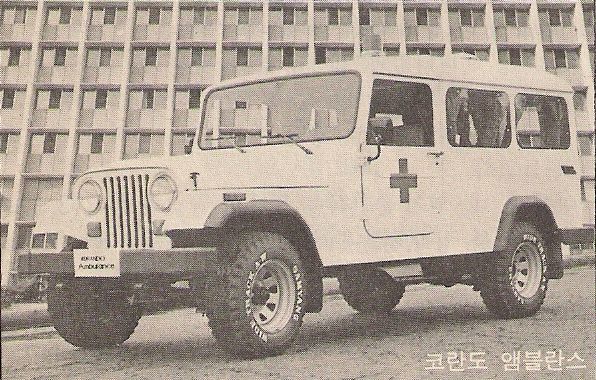 1985 Dong-A Korando Ambulance
It is suitable for emergency use such as hospital and civil defense training because it shows quick maneuverability on road of any bad condition for safe patient transportation, and it is possible to operate not only complex city but also mountainous wallpaper.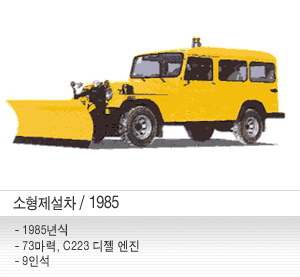 1985 Dong-A Korando 9 (As they call this: Environmental hygiene car)
(Author's note: This example has snow plow prep package made by Dong-A fitted in)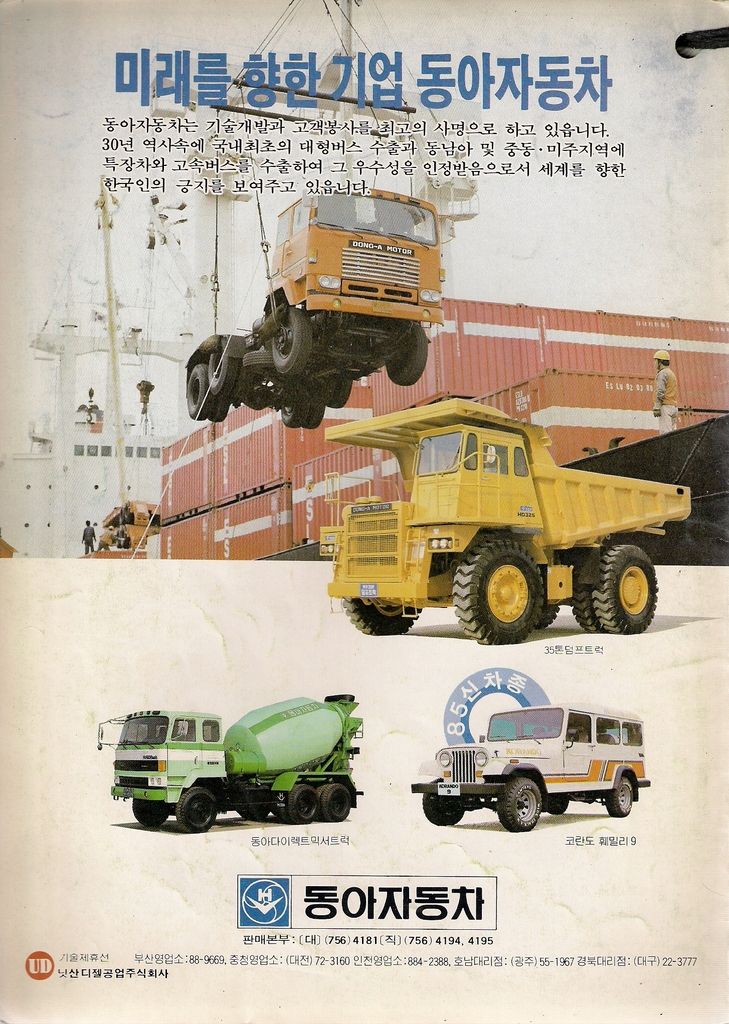 January 1985 Advertisement
(top)Dong-A HD325 (35 Ton Dump Truck)
(left)Dong-A HA-Series (Dong-A Direct Mixer Truck)
(right)Dong-A Korando Family 9
1985 Dong-A Korando Family 9
Developed 6 models including Family 9 and Van
In February 1985, Keohwa and Dong-A Automotive Technology Team cooperated and developed and released the 1985 Korando, which improved the Jeep model to a versatile mass. The 1985 'Korando' series of six models, including 'Korando Family 9', 'Van' and 'Ambulance', are specially designed to maximize the safety of the driver and passengers. The dashboard, wide front windshield, all-weather cooling and heating system, and 2,238 cc of Isuzu high-performance diesel engine are installed to further enhance the advantages of four-wheel drive.
1985 Dong-A Korando 5
From: SsangYong Motor > 4WD > 1985
http://www.smotor.com/kr/company/center/history/4wd/index.html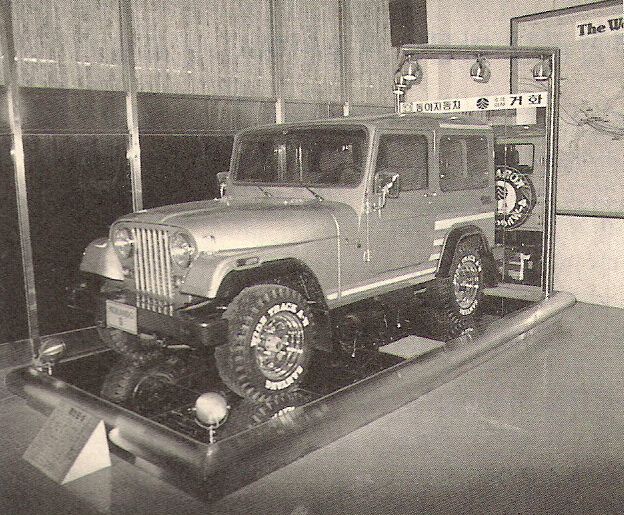 1985 Dong-A Korando 6
Installed a window on the entrance of KAL New Building
As part of the general promotion and promotional activities for the launch of the 1985 Dong-A Korando series, KAL exhibited 6 different models, starting with 'Korando 6' on the front of the building, attracting many people.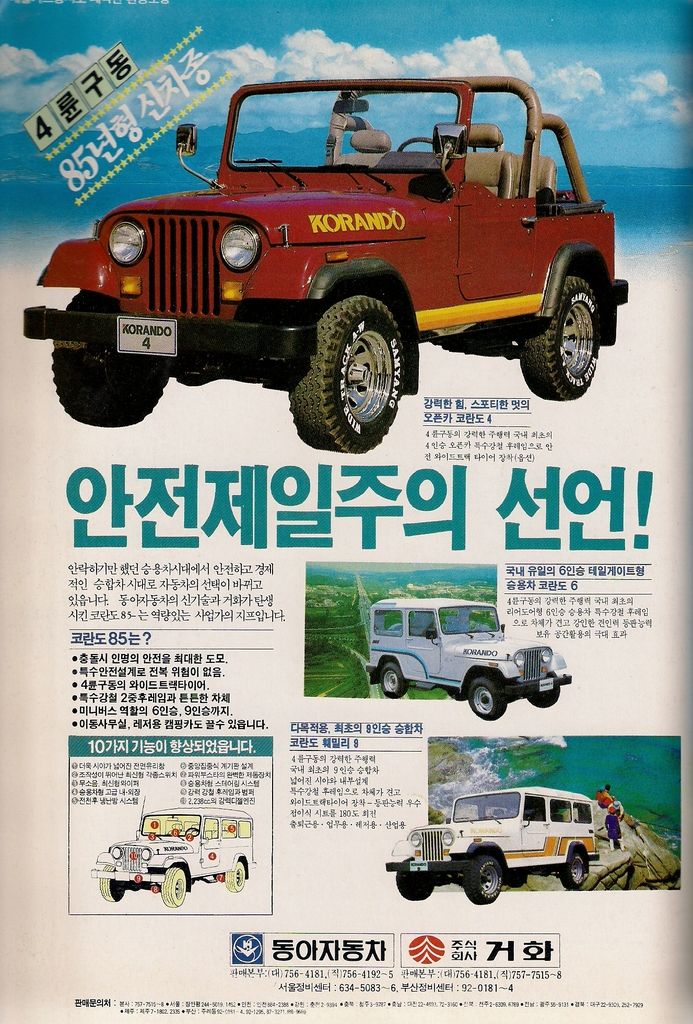 March 1985 Advertisement
Top: 1985 Dong-A Korando 4; Middle: 1985 Dong-A Korando 6; Bottom: 1985 Dong-A Korando 9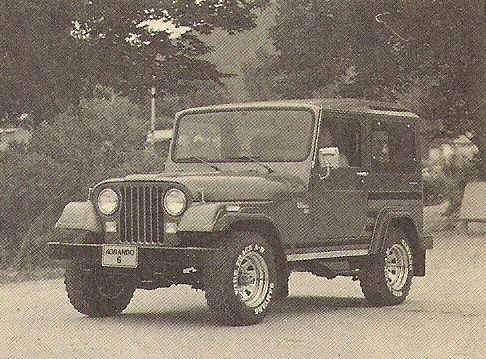 1985 Dong-A Korando
Export
Produced 6 different models for the export market
From June 15, 1985, Isuzu launched the 1985 Dong-A Korando series, equipped with the 'G200Z' gasoline engine (1,949cc, 105 horsepower). Compared to the diesel 'Korando', the gasoline model minimizes noise in the car, providing a comfortable, quiet ride and low vibration. In order to increase exports, six models were developed, including three-seater vans and four-seater, five-seater, six-seater and multi-purpose vans with nine seats and an ambulance.
September 1985 Advertisement
1985 Dong-A Korando 4
Gasoline model now available to the market.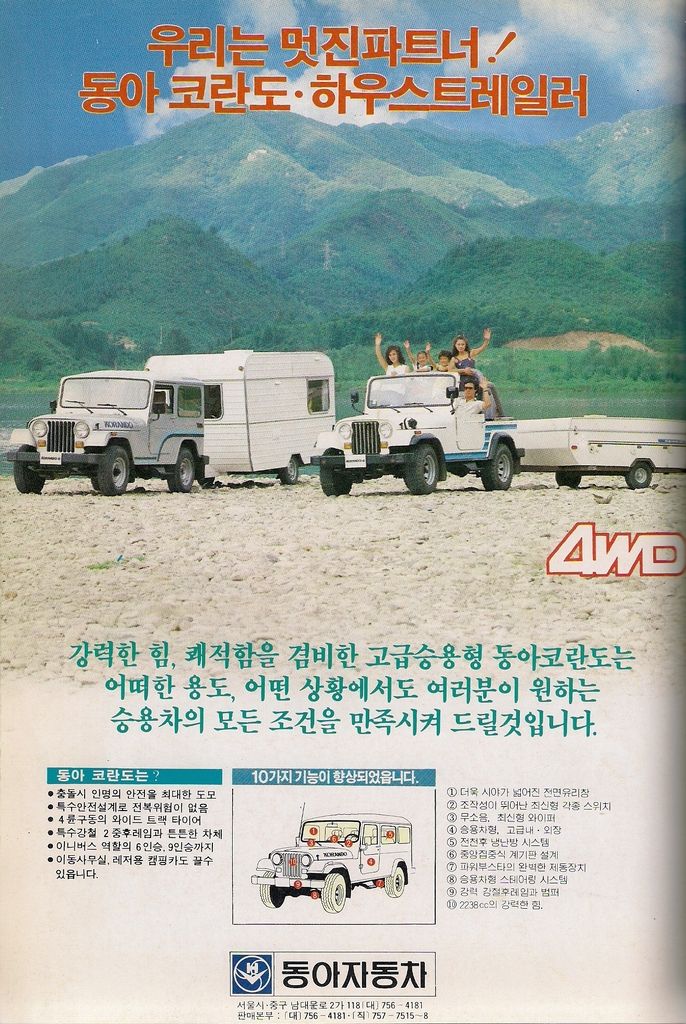 November 1985 Advertisement
1985 Dong-A Korando 6 and 1985 Dong-A Korando 4
(Author's note: These trailers are also made by Dong-A as well)
SsangYong Motor > Korando > 1985
http://www.smotor.com/kr/company/center/history/prod/korando/index.html
Isuzu C-Series Diesel Engine: (C223)
https://en.wikipedia.org/wiki/List_of_Isuzu_engines#Isuzu_C_engine
Isuzu G-Series Gasoline Engine: (G200Z)
https://en.wikipedia.org/wiki/List_of_Isuzu_engines#Isuzu_G_engine
KAL New Building:
https://commons.wikimedia.org/wiki/File:Hanjin_Group_Headquarters.jpg
1985 Dong-A Korando 9 Snow Plow Prep Package
http://www.smotor.com/kr/company/center/history/prod/str_car/index.html