rjluna2
1992:
Won three consecutive years since 10 years event
In May 1992, he won the Cyprus 4WD Rally for three consecutive years in the Mediterranean Republic of Cyprus. The 12th edition of the Cyprus Rally is the most traditional car in the Mediterranean and is known for its rugged course. 'Korando' won the international car title for the first time in the 10th competition in 1990 and won the international car title for the third time in a row since 1992. Particularly, it was meaningful that the vehicle exported without specifications or structure change came out to win the world famous 4WD vehicles and win. Ssangyong Motors exported the 'Korando' and 'Korando Family' to Korea since its first export of 'Korando' to Cyprus in 1989.
1992 SsangYong Korando RVH
4-Passenger
Significantly improved safety and style
On October 7, 1992, the company developed and marketed a high-deluxe 'Korando' car equipped with high-end specifications and a greatly improved quality. With a bumper guard bar, large fog lights, body stripes and a stainless steel radiator grille on the exterior, it has been refurbished to a strong, sophisticated urban style. The interior space is luxurious and maximizes the driver's convenience. Especially, the first 4WD domestic suspension seat and left / right opening / closing type sliding side window have improved convenience and durability.
1992 SsangYong Korando RVH
5-Passenger
Same text as the previous picture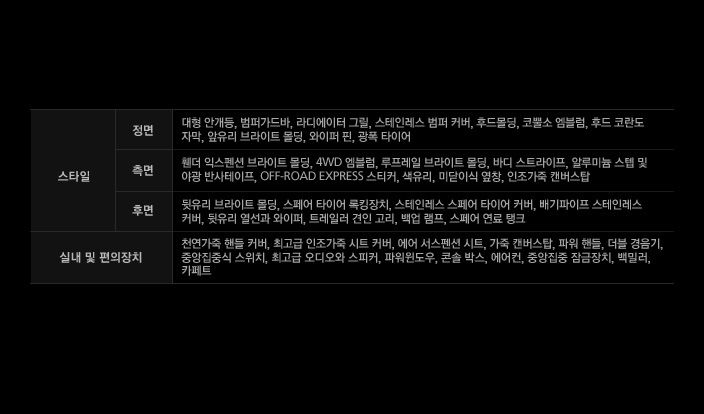 Key improvements
Highlights of Style:
Front: Large fog lamp, bumper guard bar, radiator grill, stainless bumper cover, hood molding, rhinoceros emblem, hood 'Korando' decal, windshield brass mold, and oblong tires
Side: Fender expansion bright molding, 4WD emblem, bright loop rail molding, body stripe, aluminum step and artic refective tape, OFF-ROAD EXPRESS sticker, colored glass, and sliding type artifical leather canvas top
Rear: Bright rear glass molding, spare tire locking device, stainless spare tire cover, stainless steel exhaust pipe cover, rear window heating wire and wiper, trailer towing hook, backup lamp, and spare fuel tank
Interior: Natural leather handle cover, premium artificial leather seat cover, air suspension seat, leather canvas top, power handle, double horn, centralized switch, high-end audio and speakers, power window, console box, air conditioner, central locking device, veneer liners, and carpet
1992 SsangYong Korando RVH
4-Passenger
, 1992 SsangYong Korando RVH
5-Passenger
, and 1992 SsangYong Korando Family
November 1992 Advertisement
Source:
SsangYong > Product > Korando > 1992
http://www.smotor.com/kr/company/center/history/prod/korando/index.html